WELCOME TO T-REXX OUTDOORS
T-REXX OUTDOORS offers the best in bass fishing with its line of 2009 products.
T-rexx Lure Co. started with a passion and love for the sport of fishing.This passion grew into what is today a way of life for me. My name is GARREN BURDETTE  and  I have combined my love of fishing with skills in art and woodworking to supply fishermen all over the USA. with the lures that will make a difference in their next fishing trip.  Here you will find , Hand Carved Wood Lures, Hand Made Spinnerbaits, Jerkbaits,Custom Painted Factory Blanks,  Bass Jigs , Bladed Jigs ,  Knives , apparel and much more................
T-rexx Lure Co. is active in Water Conservation and Restoration Efforts,as well as Pond Management, Litter and Polution Control.
Dont forget to check out the WHATS NEW page to see handmade knives by T-REXX...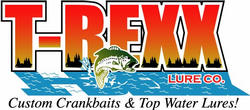 CONTACT T-REXX @ 864-382-9261
T-rexx Lure Co. is a proud sponsor of local members of the Sparkle City Bassmasters,Simpsonville Bassmasters , and other Bass fishing organizations..
T-REXX hold his 25"long 8lbs. Largemouth caught on a JITTERDONE top water lure.
copyright. T-rexx Lure Co. 2009